Ceiling Coating & Painting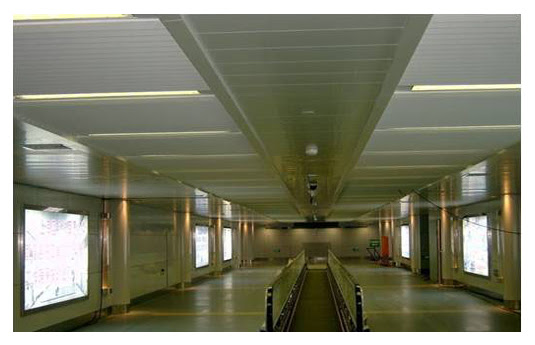 New Coat Painting Professionals (Painting Contractors) are specialists in ceiling painting service, repainting, coating, and restoring: metal deck ceilings, vinyl ceilings, wood deck ceilings, interiors, walls, industrial and commercial buildings, warehouses, factories, plants, production and manufacturing facilities plus structural steel and metal.
Increased Productivity With Ceiling Painting National Studies indicate that by creating a work environment that employees feel comfortable in, you can increase their productivity by as much as 23%. Ceiling painting is more effective and less expensive than adding light fixtures.
Brighten Your Ceiling Today
Save money in Lighting: Increase light or luminous intensity in your plant by as much as 40%, without paying for additional light fixtures or larger electric bills that will last forever.
Save money in Plant Safety: Increasing light provides better visibility and awareness. Brighter work areas with fewer shadows translate into fewer loss time accidents and workman's compensation claims.
Make more money in Marketing: Your facility will present a professional image and a better appearance to visiting customers, potential investors or buyers. Presenting a professional image translates into more sales.
Make more money in Production: Create a more pleasant and safer work environment by improving cleanliness and visibility for employees. Increasing worker productivity translates into lower production costs.
Make more money in Human Resources: Your employees will take more pride in their place of employment. Improving employee morale translates into a larger human resource pool to select from.
If you require a large painting contractor, professional ceiling painting, spray painter, airless spray painting service, or restoration paint company, New Coat Painting Professionals (Painting Contractors) are the one.
New Coat Painting Professionals (Painting Contractors) handles large or small ceiling painting projects at affordable prices. We will submit the best quote within our industry.
Fast and free painting quotes online or in person.
Interior painting exterior painting exterior house painting roof painting painting professionals painting Interior painting exterior exterior painting painting contractors painting services residential painting commercial painting expert painting painting experts provided professional interior and exterior painting services clean coat of paint town house painting house painting painting contractors jhb painting contractors Johannesburg painting contractors randburg painting contractors sandton painting contractors hartbeespoortdam painting contractors hartbeesport painting contractors Broederstroom painting contractors Brits painting contractors Xanado painting contractors Lanseria painting contractors Houghton painting contractors fourways painting contractors Centurion paint contractors jhb paint contractors Johannesburg paint contractors randburg paint contractors sandton paint contractors hartbeespoortdam paint contractors Hartbeespoort paint contractors Broederstroom paint contractors Brits paint contractors Xanado paint contractors Lanseria paint contractors Houghton paint contractors fourways paint contractors Centurion paint Bryanston painters contractors jhb painters contractors Johannesburg painters contractors randburg painters contractors sandton painters contractors hartbeespoortdam painters contractors Hartbeespoort painters contractors Broederstroom painters contractors Brits painters contractors Xanado painters contractors Lanseria painters contractors Houghton painters contractors fourways painters contractors Bryanston professional painters jhb professional painters joujannesburg professional painters randburg Professional painter hartebeespoortdam Residential painting, industrial painting, corporate painting, interior painting/exterior painting, roof painting and spraying, technique painting, epoxy floor coatings, murals and logos, wood deck and fence staining, removing wall paper, maintenance programmes,custom faux. painting company home painting home exterior commercial and industrial painting Exterior painting and decorating quality painters ceiling coating